Small Powerful Acts of Self Care By Lauren Yaldoo MA TLLP
By: Prepare U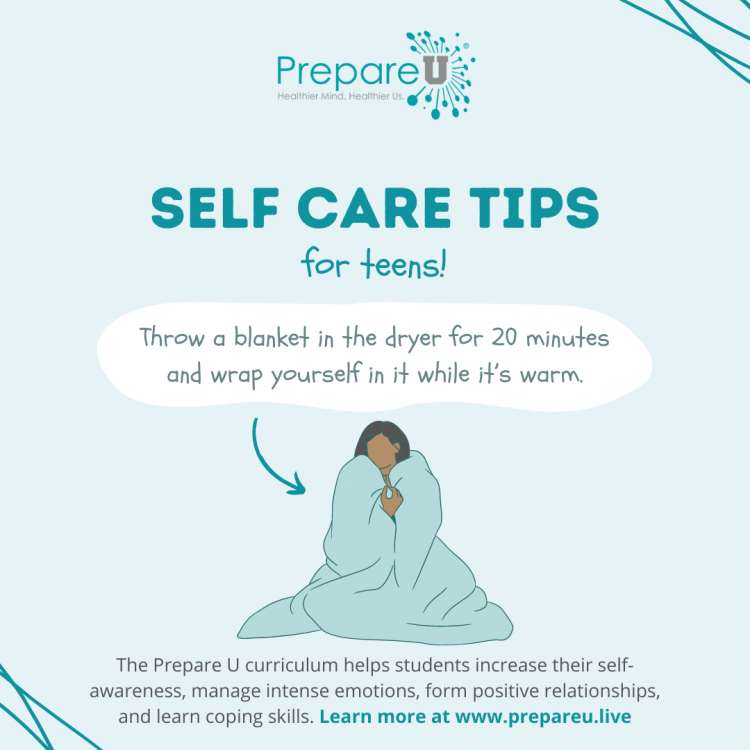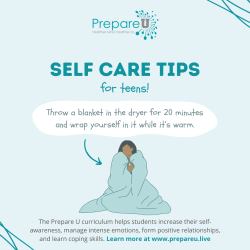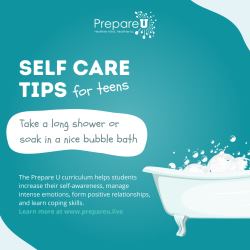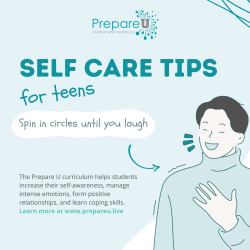 Build and Maintain a Healthy Lifestyle with Simple Acts
Over the last couple of years through the Covid-19 pandemic, I have witnessed the phrase "self-care" become glamorized, thrown around, and trend among adolescents and adults alike. I have seen posts from influencers with millions of followers on Instagram, Tik Tok trends on the up-and-coming newest craze, and multiple Facebook likes and reshares all pushing an idealized version of self-care. Both mainstream in and major news do not go without mentioning either, with articles and stories from reporters and writers making self-care quite literally anything they want it to be.
All in all, defining self-care can be a difficult feat. It's hard to distill it down to a secret sauce or technique. The simplest way I can explain self-care to you would be "the act of taking care of our health." Pretty broad, I know. Afterall, the course of self-care varies from person to person. What is important is that you find positive ways to build and maintain a healthy lifestyle and mindset.
At Prepare U, we compiled a list of 123 Self-Care Activities that have helped many people do just that. They're great inspiration if you do not know where to start in your self-care journey, if you are looking for a nudge or incentive to get going, or if you are a mental health professional seeking resources to pass along. Not an exhaustive list by any means, however our 123 Self-Care Activities range anywhere from outdoor activities as simple as taking a walk in your neighborhood to placing a blanket in the dryer and wrapping yourself in its warmth.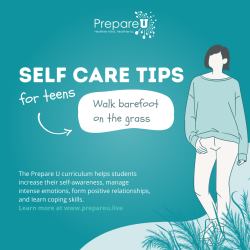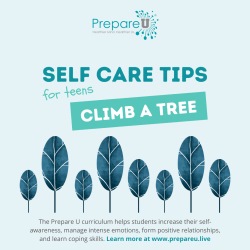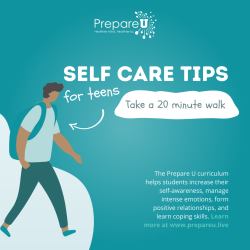 Self-Care Activities and Their Role in the Prepare U Curriculum
Originally part of the Prepare U Mental Health Curriculum, these self-care activities come into play almost daily. I know this personally because of the feedback I have received time and time again from students acclaiming it to be their favorite part of the curriculum, their parents and guardians who witness the transformational process inside their homes, and social circles of friends spread out in districts that have received the list from their peers.
The 123 Self-Care Activities are increasingly more powerful when paired with the other content presented during the 15 Classes. We ask students to perform these self care activities as they make their way through challenging Prepare U topics like understanding facets of personality, combating anxiety and stress, understanding the role of social media and technology, managing distorted thought processes and anger, discerning healthy and unhealthy relationships, forging meaningful engagements throughout life, and accepting that we all make mistakes.
Self care has become an integral part of our routines, the manner in which we check-in with each other and relate to the world around us, and the way we shield ourselves from the stress and anxieties we encounter as we navigate life. Regardless of how we define self-care, to me, self-care instills a sensation of hope and that's something we can all use more of these days.
Lauren Yaldoo is the Executive Coordinator of Therapy.Live and a co-author of Prepare U, a mental, emotional, and behavioral health curriculum. She is a licensed clinical Psychotherapist with experience working with adults, adolescents, and children using an array of theoretical approaches.
Join Prepare U as we raise awareness of the importance of managing your mental health by sharing one simple self care tip each day in May. Follow us on LinkedIn, Facebook, and Twitter to learn fun and unexpected ways for the teens in your life to take a moment for self care.
Contact Us if you'd like immediate access to the 123 Self-Care Activities.