Prepare U - Video Intro and WB High School Endorsement
For those that have had the honor to have had Mr. Patrick Watson as a teacher, coach, and as a principal, they will personally tell you that he was born for his role as an inspirational leader guiding his students. We are honored that we are able to support him and his staff in moving the needle in mental health. We are also humbled by his proactive efforts to do what is best for his students.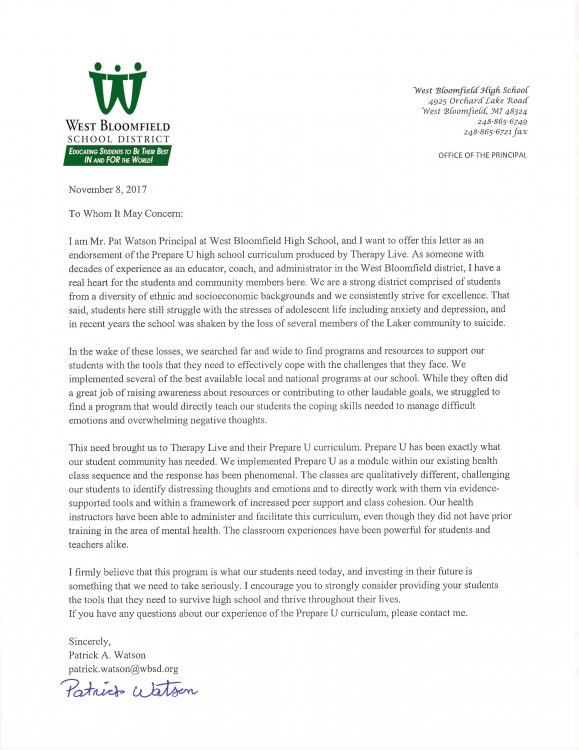 For more information on how to bring the Prepare U -Social, Emotion, & Educational curriculum to your district visit www.MentalHealthCurriculum.com or email us by clicking here for an invite to the more in-depth overview.
Previous Articles by Prepare U
Social Emotional Education
Mental Health Curriculum
Prepare U
West Bloomfield High School
The Prepare U social emotional curriculum, developed by the Therapy.Live team and endorsed by leading psychologists, is designed to be a plug-and-play system that any teacher can easily facilitate, either as a standalone course or as an integrated part of an overall health sequence. Prepare U provides students with the tools necessary to get to the root of potential problems, working to prevent unhealthy coping patterns from emerging and flourishing in the first place. For a brief overview please watch the video below. For an in-depth overview of the Prepare U mental, emotional, and behavioral health school program click on the link above to request our very powerful demo. To discuss bringing the Prepare U curriculum into your school or district please call us at 844-724-5483 ext.3.