RSVP for the 1st Ever Prepare U Mental Health Curriculum Facilitator Roundtable
By: Prepare U
This Live Zoom Roundtable conversation is guaranteed to have you and your district rethinking what is possible when it comes to student mental health education. We have gathered an amazing group of teachers from a wide range of demographic settings that collectively have supported thousands of students through the Prepare U Mental Health Curriculum.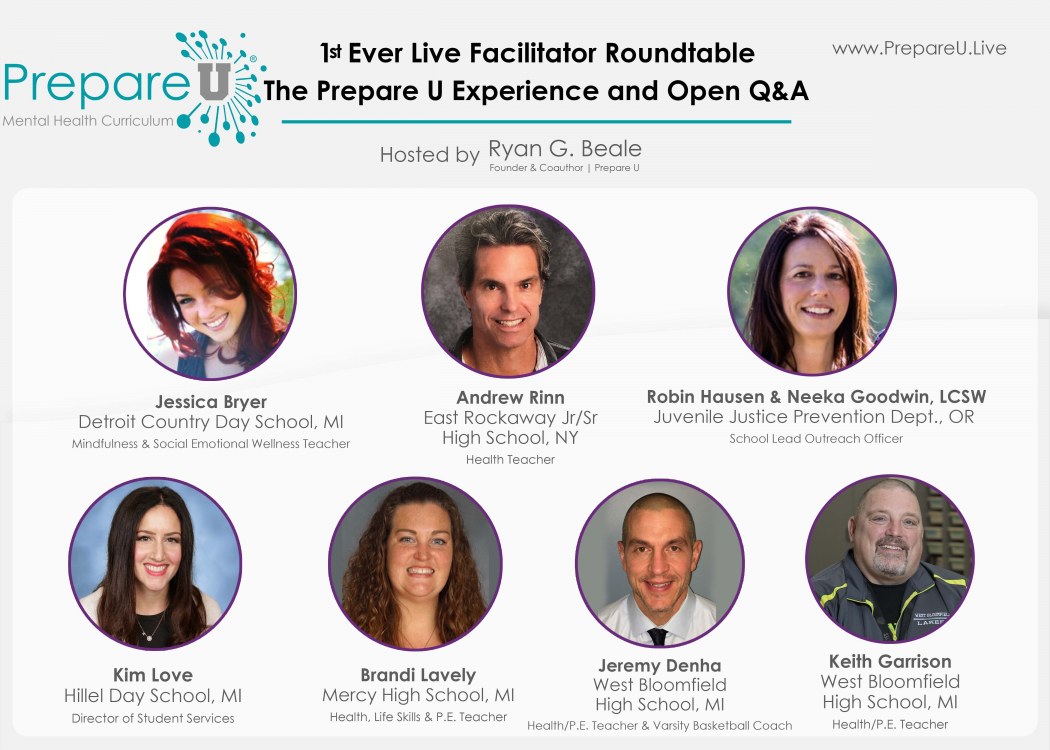 We Are Pleased To Invite You To Join Us and Learn First Hand How These Teachers Are Transforming The Lives Of Their Students.
REGISTER IN ADVANCE:
(This event has already taken place. To watch it Click Here)
When? May 26, 2020 11:00 AM Eastern Time (US and Canada)
Who? Anyone responsible for the expansion of student mental health education should attend
What? Facilitators/Teachers from New York To Oregon from Public, Private, and Religious Schools That Have On-The-Ground Experience Facilitating Prepare U in the Classroom. Followed by Live Q & A


Where? Register in advance for this webinar: (Registration is now closed)
Why? Because schools districts around the country are asking how Prepare U works in the classroom and who can lead it, these facilitators have volunteered to share their expertise and real world experience.
This Zoom Roundtable conversation is guaranteed to have you and your district rethinking what is possible when it comes to student mental health education. We have gathered an amazing group of teachers from a wide range of demographic settings that collectively have supported thousands of students through the Prepare U Mental Health Curriculum.
Prepare U is the 1st ever evidence-supported mental health curriculum utilized throughout middle and high schools in North America. The program has been evidenced to significantly reduce trauma and anxiety symptoms, while improving student's meaning and purpose, and emotional support. This 15-class program is led by everyday teachers as they support the process of their students learning evidence-based techniques, which follow up research has shown to be effective long after the class has been completed. This is your opportunity to hear from the facilitators themselves who are taking the lead and supporting their students in this process.
Facilitator Bios
Jessica Bryer
Jessica Bryer inaugurated the Social Emotional Wellness program at Detroit Country Day School Upper School. Jessica has a BFA in Performing Arts (Wayne State University) with a natural progression into the healing arts. She is certified in Ashtanga Yoga, Mindfulness and Meditation, and The Science of Happiness. Jessica is a married Michigan native with one inquisitive and kind 3 year old boy. She loves learning and adventure so to be working with high school students and guiding them on how to navigate themselves in this uncontrollable world is one of her greatest adventures yet.
Brandi Lavely
Brandi Lavely is currently in her fifth year at Mercy High School where she teaches Health, Life Skills and a range of PE classes. Prior to working at MHS, she worked for seven years in a variety of roles including a K-8 PE, Middle School Health teacher and Middle School Assistant Principal/Athletic Director. She obtained her Bachelor's degree from Eastern Michigan University and has teaching endorsements in Physical Education, Health Education and Adapted Physical Education. She obtained her Master's degree from the University of Michigan – Dearborn and received her School Administrators endorsement.
Keith Garrison
Keith Garrison graduated from Wayne State University in Detroit with a BS in education with a Masters in education and has been teaching since 1995. He obtained his Masters of Education from Marygrove College in 2002. He has taught PE/Health at the West Bloomfield School District for the past 24 years and has over 25 years of experience coaching football, wrestling, track and field, softball, and basketball. Prepare U entered Garrison's life to replace WBSD antiquated emotional health program. He is proud to say that every student that has entered West Bloomfield in the past 4 years has taken this integral unit of instruction and believes that Prepare U will be the most memorable unit of study for any class. When he is not teaching, he loves being with his wife (Stacy) of 29 years and his 14 year old son Keith.
Jeremy Denha
Jeremy Denha is a Physical Education/Health Teacher at West Bloomfield High School, West Bloomfield MI. He is currently in his 15th year of teaching physical education and health in West Bloomfield. Jeremy graduated from Wayne State University in 2003 with a BS in Kinesiology and minor in Health Education. Since graduating from Wayne State Jeremy has also obtained a Master's Degree from Marygrove College. Jeremy just finished his tenth season as the Varsity Boys Basketball coach at West Bloomfield High School.
Kim Love
Kim Love is the Director of Student Services, at Hillel Day School of Metropolitan Detroit. She has made it her life's work to enhance the lives of children, and their families, through social-emotional skill development, behavioral analysis/intervention, academic support, and community advocacy. Kim holds a Master's Degree in Social Work from the University of Michigan and is a Licensed Masters Social Worker (LMSW). Kim has been a dedicated social worker and administrator, with over 16 years of experience working in Michigan schools in various capacities. Prior to arriving at Hillel 4 years ago, Kim was the Director of Student Support Services at a Public School Academy of 1,250 students in Southfield. She was elected to the Michigan Department of Education's Special Education Advisory Committee and voted by 31 fellow constituents to serve on the Executive Committee for 2 years of the 3-year term. Also working as a Clinical Psychotherapist, in a private practice in Farmington Hills, Kim specializes in helping children and young adults to improve daily functioning and empower them to lead a fulfilled life. Her areas of expertise include working with those who experience challenges related, but not limited, to: Autism Spectrum Disorder, ADHD, Behavior Disorders, Mood Disorders, Interpersonal Relationships, and Pro-Social Skills.
Andrew Rinn
Andrew Rinn is the Health Teacher at East Rockaway Jr/Sr High School, NY.He has been teaching health for the past 23 years to middle school and high school students. For the past two years, he has been implementing the Prepare U curriculum in his high school health classes (grades 10 and 11).
Robin Hausen
Robin Hausen: school outreach officer, her focus is intervention and prevention for the youth of her community in Josephine County, Oregon. Robin works with Juvenile Department staff to partner with schools to address issues like school attendance, substance use and abuse, and criminal behavior. She enjoys her pets, camping and summer weather.
Neeka Goodwin
Neeka Goodwin is a children's therapist, stationed in the School Based Health Center at Illinois Valley High School. She is a licensed clinical social worker (LCSW). She is inspired by working together with school staff and other community partners to provide support to students as they learn and grow. She enjoys outdoor adventures and vigorous exercise and cooking at home.
Prepare U Short Documentary - Kevin's Song from TLN on Vimeo.