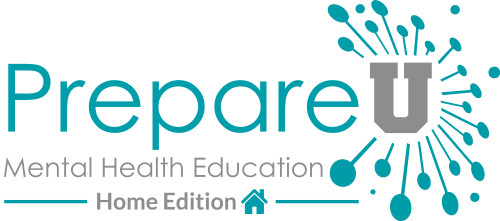 Mental Health & Wellness Course
Created By The Therapy Live Team
For Your Home For Your Workplace For Your Community
Research-Backed To Reduce The Effects of Trauma, Anxiety, and Improve Overall Wellness
This program delivers the skills that will teach you how to master yourself, better manage your family dynamics, and improve your relationship health and boundaries.

Trusted by leading experts, educational institutions, and endorsed by world leading psychologists and behavioral health organizations, Prepare U is guaranteed to make breakthroughs in your life and relationships.
Founded by a two-time family survivor of suicide and the team that developed the nationally recognized, 1st-ever experiential mental health curriculum, and the the designated Official Practice Management Platform of the Canadian Psychological Association
This program does more than just prevent suicide, it has been scientifically shown to increase one's meaning and purpose in life. Click here to read the research.
Easily learn tools to master your anxiety, your decision making process, and to better understand the makeup of your personality so that you can improve the quality of your life. Today, you can start experiencing the benefits of utilizing the same tools that could cost you several thousands of dollars in a therapy office.
By definition this one-of-a-kind program has been proven to effectively increase resilience in several thousands of people throughout North America. Resilience is your ability to cope and manage the stress, dysfunction, and chaos in your life. It is the capacity to recover quickly from difficulties; toughness. Prepare U gives you a wider lens and scientifically proven tools to overcome the obstacles in your life without the feeling of having more work on your plate.
With Prepare U Home Edition's evidence-based 11-session course you will learn how to better manage friends, family, co-workers, loved ones, and understand what they might be struggling with while growing your capacity to support them. Each course includes an easy-to-follow digital workbook, transformative videos, downloadable engagement activities, a dynamic icebreaker, insight tracker, and an ever expanding video library that helps you tackle tough questions that you never knew how to ask.
"Emotionally you'll grow"
"It's like an experience that you can't get anywhere else."
"The situations that life gave me, somehow Prepare U knew and they gave me an answer. It made it easier to cope with and mentally understand the things that I was going through."
"My mom is a teacher and I feel like I can show her the skills that I learned here and she can apply them to her classroom."
"I recently lost a family member so it was nice to learn how to comfort my family through that, and also myself."
"One thing that stuck with me throughout the program was the coping skills because I have anxiety and do take medication for it, but sometimes I need to understand it a little bit better and I think that learning how to handle it a little bit better helped me out."
"It's better than anything we have ever done. Everybody has a part to play in teaching about mental health and breaking down the stigma."
Brandi Lavely - Health Teacher
"As educators when we can arm kids with these tools, we're going to be saving a lot of people. Every health curriculum should have parts of Prepare U in it."
Jeremy Denha
- High School Health and Basketball Coach
"One thing that we love about this curriculum is it allows us to bring parents into the conversation…I know that for many schools, that partnership with parents is very important."
Principal Patricia Sattler
- Mercy High School
"I have been in education for 25 years, giving Prepare U to our students was the most important thing that I've done in my entire career."
Pat Watson
- Superintendent Bloomfield Hills School District
---
Prepare U can be used alone or with your family. It's up to you!
Tools to decrease anxiety
Tools to process anger
Tools to combat negative thoughts
Tools to increase mindfulness
Tools to evaluate healthy relationships
Tools to enhance personal growth
123 self-care activities
Access to evolving video library with leading experts
Access to visual podcasts
Access to mental health 101 videos
Crisis resources and support
Stress Relief Video Library
Works on all devices