Real Talk for Real Families
Let's face it. Life with teenagers (and life in general) can be stressful, chaotic and hard to navigate. The Prepare U Home Edition is here to help. It's an online tool that brings families together to talk about tough topics affecting young people including:
Grief and loss
Social media
Bullying
Addiction
Anger
And so much more
Meaningful conversations begin at home. Prepare U helps start those conversations with easy-to-use, evidence-based tools designed to decrease anxiety and depression, combat anger, and foster healthier relationships. The Prepare U Home Edition delivers a program that's transforming schools and communities across the U.S. straight to your living room (or kitchen, or anyplace your family likes to gather.) Ready to get started? Read on!
Prepare U is an 11-course series your family can work on together in the comfort, privacy and safety of your home. Each session includes a video, a brief digital workbook, downloadable activities and a personal insight tracker.
A guided journey connects families on a deeper level in a non-threatening, engaging way
Learn simple, game-changing tools used by leading experts to help with anxiety, stress, depression, anger and even suicidal thoughts
Evidence-supported activities help you connect with yourself and each other
Best for: Families with children ages 10 and up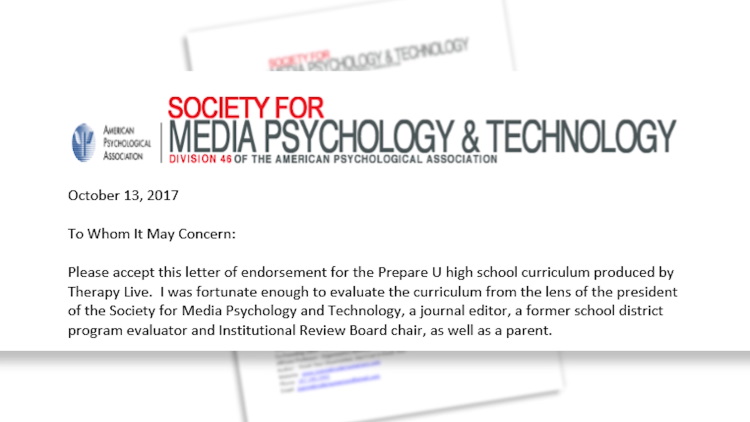 Prepare U has been featured in Teen Vogue, the Huffington Post, the US Department of Education Newsletter, and in many other media broadcasts. The curriculum is endorsed by the American Psychological Association's president of media psychology and technology. And here's one more reason to sign up. A portion of your monthly subscription will help support a student's in-school mental health curriculum. For $14.99, you can strengthen your family's connection and help change a young person's life at the same time.
Our program is 100% guaranteed to spark meaningful conversations. Come join Prepare U, the movement that's improving mental health on a personal level and a global scale.
---
Learn Together. Heal Together. Grow Together.
Decrease anxiety
Process anger
Combat negative thoughts
Increase mindfulness
Evaluate healthy relationships
Enhance personal growth
123 self-care activities
Evolving video library with leading experts
Visual podcasts
Mental health 101 videos
Crisis resources and support
Works on all devices