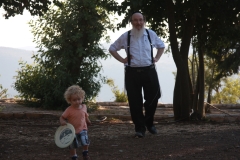 Michael Krauss, M.S.
Co-founder and Chief Technology Officer
Co-founder Michael Krauss is one of our team's top secret ingredients. From 1994 through 2010 Michael worked as the lead for missile defense software development for Hag Technologies. Hag Technologies was contracted by the US Army missile program to create the missile guidance and defense system. Michael spearheaded foundational work that led to the development of some of the most advance missile defense systems (systems that protect civilians from hostile missile attacks) that we may hear about in the news today. Since then, Michael has gained extensive experience in building and running educational platforms. In addition to his 25 years in software engineering, Michael has a Master's Degree from the University of Michigan in Biochemistry and has been doing research for decades into health outcomes.
Expertise in Software Engineering, Security, Compliance, Education, Health Outcomes.