Prepare U Joins Blockchain ADA Cardano Community - Stake ADA & Save Lives
By: Prepare U Posted On Apr 28, 2021
Prepare U Mental Health is pleased to announce our support of the ADA Cardano Blockchain by officially launching the Prepare U Stake Pool (Ticker = PrepU)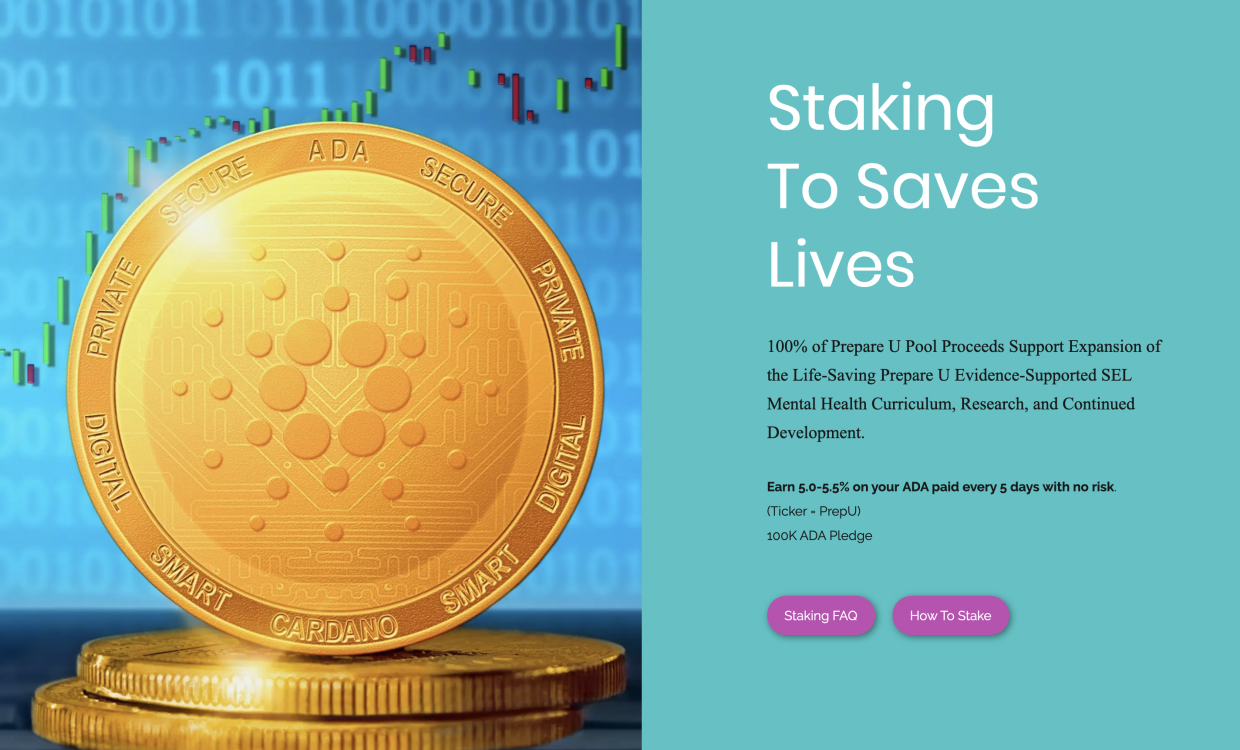 Prepare U Mental Health is pleased to announce our support of the ADA Cardano Blockchain by officially launching the Prepare U Stake Pool (Ticker = PrepU). To see our new Prepare U Stake Pool Website Click Here
As a firebrand in mental health education some may ask, What does crypto and the blockchain space have to do with mental health? The short answer is because of the hope and promise that it will provide to billions of people around the world that have been overlooked, ignored, and left to suffer when we are capable of doing more as a society to lift everyone up. This is what we have done through our struggle as we rigorously developed and self-funded, Prepare U, the first ever Evidence-Supported Experiential Mental Health Curriculum as a universal education program, not just for the youth that have been labeled.
This idea is often referred to as providing greater equity. For us, we witness everyday the paradigm shift that occurs when providing hope, a greater sense of autonomy, and tools to break the mental chains that, at times, we all find ourselves in. The result is decreased suffering, less unnecessary loss of life, and individuals living with greater meaning and purpose.
This is precisely what the outcome of Charles Hoskinson's vision will be and has been since he left as co-founder of Ethereum. From his passion, it is obvious that in his gut he could not sit by knowing that the novel blockchain technology, which has the ability to create a more fair and connected world, would be designed as an experiment that was doomed to eventually break and run into a wall. Mr. Hoskinson founded the blockchain ADA Cardano with the support of his company IOHK to become the world's most decentralized, efficient, and global financial operating system that mankind has ever experienced. Just yesterday, they proved again to the world that ADA Cardano is more than just a financial system as they publicly announced the largest real world use of blockchain technology through an overhaul of the Ethiopian education system utilizing this advanced technology. Read about the Ethiopia Ministry of Education partnership by Clicking Here.
Cardano's passionate goal will support the more than an estimated 3 billion people in the world with identity, decentralized governance, access to funding and banking, and property records, which will support generational transfer, and protecting from unlawful seizure of property. Many of these luxuries that we take for granted everyday.
With nearly 100 peer-reviewed research papers and an army of scientists, cryptographers, mathematicians, and a network of some of the most passionate and talented developers in the world, the Cardano vision is coming to life. ADA Cardano is showing the world what is possible when we harness the best of the human spirit. The inevitable blockchain technology that is going to impact our future has the potential to generationally improve the systems that connect us and have often historically divided us. ADA Cardano holds a core belief that all human beings are created equal and some happen to win genetic or geographical lotteries, which is why we need improved systems that lift everyone. Prepare U could not sit idle when we preach daily to Do Your Part and Trust the Process.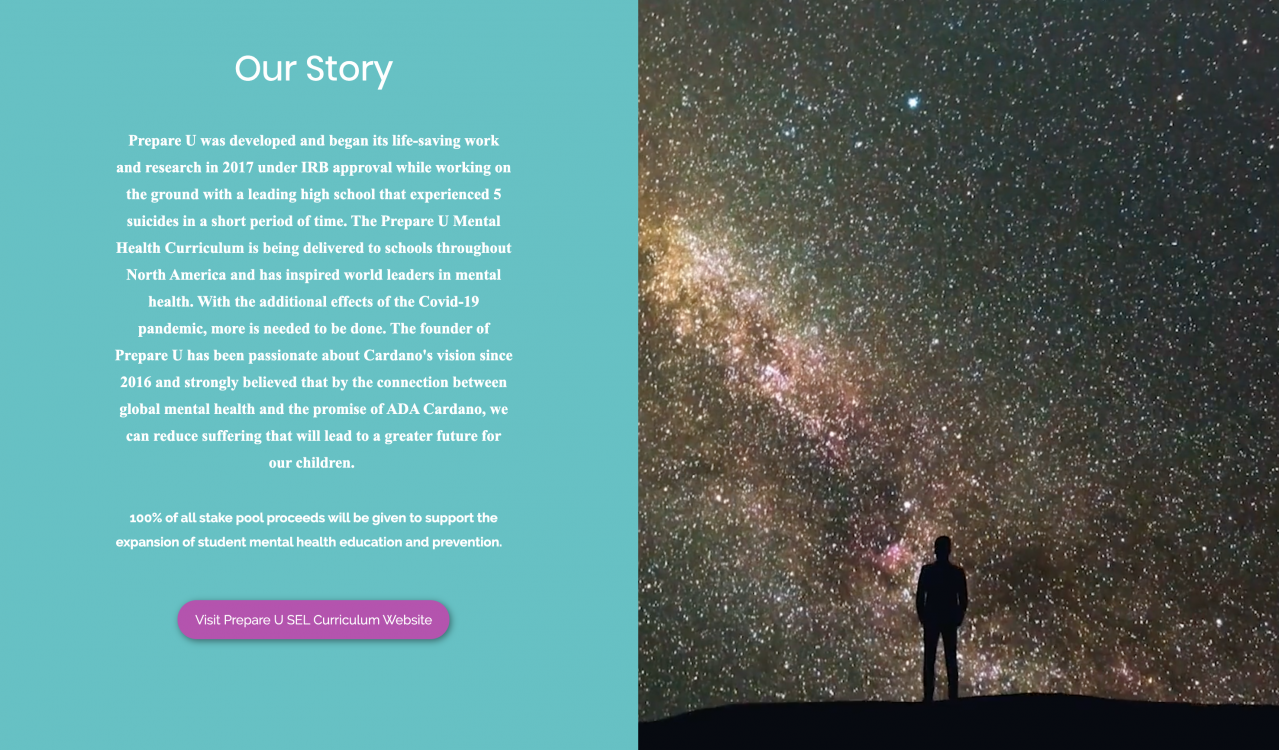 "We are doing our part," Ryan G. Beale, founder of The Live Network, the Public Benefit Corporation and co-author of the Prepare U SEL Mental Health Curriculum stated, "This is why we are supporting ADA by creating a stake pool and utilizing the proceeds to support the ones that we can lift up. We will focus our stake pool proceeds on giving grants to schools that have had a recent suicide or traumatic event. Our program has years of research now showing the significant decrease in trauma symptoms, while increasing meaning and purpose.
I have been watching the ADA Cardano community evolve from a few hundred, to a few thousand, to hundreds of thousands of people over the past four years. Personally, I have connected to their mission and vision since day one. Charles Hoskinson reminds me of a mix of two of our founding team members that I am very close with and spent years banging our heads and doing research to best serve vulnerable populations. One, a former lead for developing the Patriot Missile Defense System and the other, a former psychology professor and our Chief Research Officer. Both are highly intelligent, brilliant individuals with engineering minds that I respect and love debating and philosophizing with, at the same time having a shared goal to serve the greater good. I have connected to Charles' journey through watching the community grow on social media and his authentic AMA's (Ask Me Anything live videos). His battles with social media hypocrisy, government bureaucracy, and fighting for the greater good for society resonate with me. It takes a unique level of self-awareness, humility, and authenticity to fight through legacy systems that leave the most vulnerable handicapped."
"Charles Hoskinson's perspectives have been in alignment with many of my world views and personal struggles as our team has had to fight through these similar elements when it came to educating political officials, school districts, and teachers that delivering mental health education is a necessity. We must not check the box and we must make it a priority and an obligation, as its results will be generational. When there is a good chance that a handful of the students sitting in a classroom have a serious plan of how they want to end their own life, it is time for the grown ups to be grown ups" says Beale.
Beale believes, "By providing tools that enable hope, purpose, and meaning we will create a new era of mental health and equity that ultimately will reduce distress and suicides on a global scale. Cardano is going to open minds to the potential of a greater future and once people get over the hype of the 'crypto craze' and understand the utility behind this technology, I have no doubt that they will look at the world through a wider lens of our human potential. This is why we have developed a Prepare U Stake Pool. We can do our part, we can educate our networks, we can incentivize people to earn financial rewards, and they can help us have a greater impact in young lives. It's a win-win-win, and we are starting a bigger conversation on what kind of future we want to hand off to our children."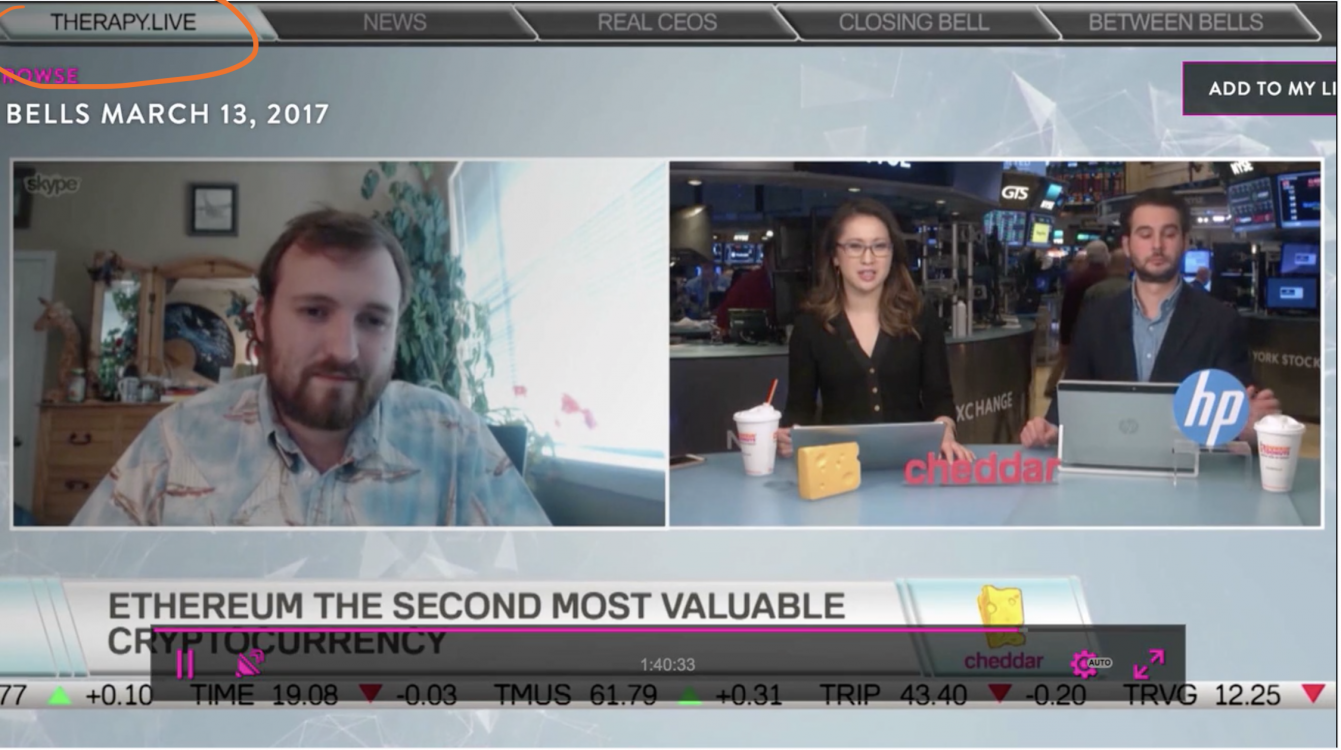 In March 2017, just before Prepare U was launched into a school that had recently experienced 5 suicides, Beale was showcasing another one of the team's software innovations, Therapy Live on Cheddar TV. As the team prepared for the interview, they watched just prior as an unknown individual by the name of Charles Hoskinson discussed his vision of the future of cryptocurrency and blockchain technology. In promoting their platform, Therapy Live, (designated as the Official Practice Management Platform of The Canadian Psychological Association) Beale recalls, "At the time, I thought that the person I was watching was some random tech guy sitting in what looked like my grandma's condo in South Florida discussing way-out-there ideas of this crypto world. Little did I know that I would become so impressed with this founder's fire to make the world a better place."
To see how ADA Cardano is starting to be utilized around the world, tune in to the historic Cardano Africa Special tomorrow Thursday April 29th at 12:30 EST and get ready for your mind to be opened.
Live Event - Historic Cardano Africa Special Website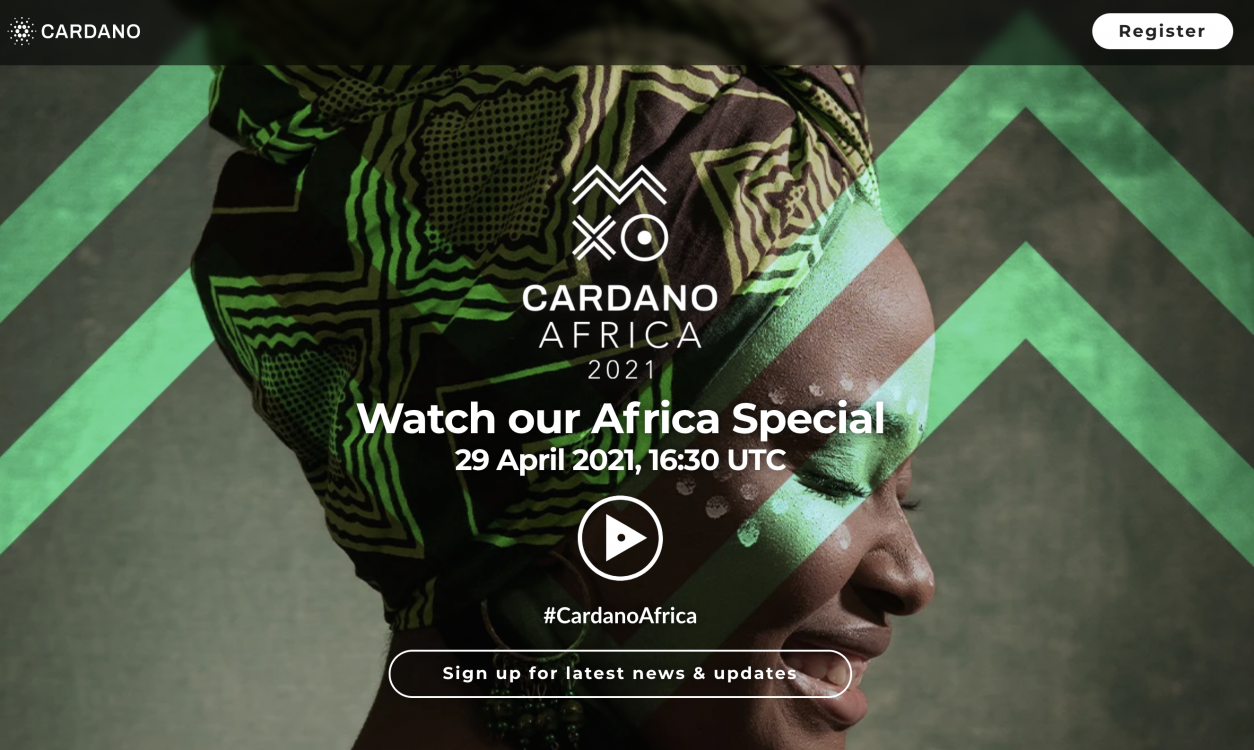 You can support our work and work of the Cardano platform by delegating your ADA to the Prepare U Stake Pool (Ticker = PrepU)
100% of the stake pool proceeds will go toward the expansion of the Prepare U Mental Health Curriculum, research, development, and operations.
Learn more about Staking by visiting our new Prepare U Pool website www.PrepareUpool.IO